Virtual Summit 2020: Recap and Reflections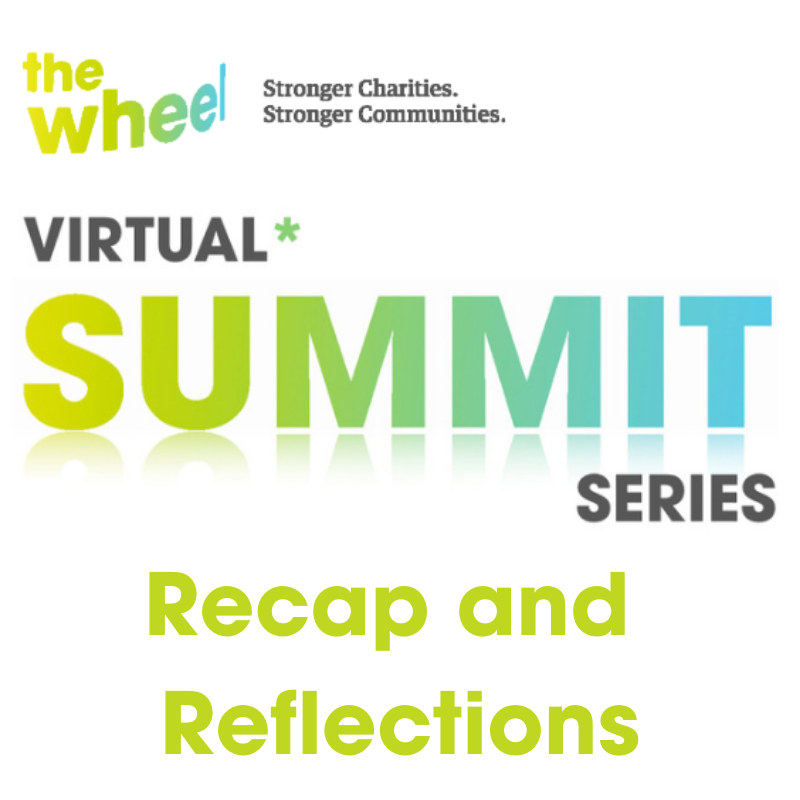 Our first ever Virtual Summit Series has come to a close, leaving us inspired, energised, and with many thoughts about what the future might hold. 
Across four events, we welcomed over 1,000 sector representatives to reflect on the current situation and the challenges that lie ahead of us, but also the opportunities that this upheaval may present for effecting lasting social change. 
During our first event (captured in detail in a previous blog), what emerged was a vision of a future where community values are put first, with well-resourced support structures in place to enact and nurture them. As Kevin McCarthy, Secretary General of the Department of Rural and Community Development, noted, "We have had a reappraisal of what's important in society, and must accordingly reappraise the values that inform policy.'' 
This vision informed the panel discussion at the Summit finale, The Future is Community. Lead by our distinguished guests, the conversation surfaced a number of key themes and considerations for the future of community in Ireland. 
Our panel featured: 
Inez Bailey, CEO of the National Adult Literacy Agency (NALA) 
Kitty Holland, Social Affairs Correspondent of The Irish Times 
Jim Power, Chief Economist for Aviva Ireland 
Dr Shana Cohen, Director of TASC. 
Please note that the observations and opinions detailed below attempt to capture the spirit of the event and the speakers' discussions, rather than presenting any official policy position from The Wheel. A fuller treatment of the subject matter is forthcoming in a paper from our Director of Public Policy, Ivan Cooper.  If you have any feedback, please direct it to ivan@wheel.ie.  
Themes:
---
1. Recognising and championing the value of our work
Each speaker noted that the public image of the sector doesn't currently reflect the vital nature of the work that it does. Charities run the risk of being seen as a hobby for volunteers, they suggested, when in reality a huge proportion are providing essential services run by highly professional staff. Volunteers play an integral role in Irish society, and must not be ignored, but they are only one part of our sector's contribution.  
As demonstrated during the COVID-19 crisis, our sector is doing life-and-death work that covered elsewhere. We as a sector must hold our heads high and demand that our work is recognised for the vital service that it is. We must not fear speaking up for our needs and on behalf of the needs of wider society. 
It is time to shed the cap-in-hand image historically evoked by the word "charity" and champion the vital work that the sector does for society. Its potential is not best directed at emergency supply of basic needs, but rather in a visionary role that shapes a better society and changes lives. Now is an opportunity to lead instead of waiting to be shown the way; to present a vision instead of waiting to be shown one. 
---
2. A need for unity
From the outside, the sector seems like a fractured place. If we are to collectively pursue change, there is a greater need for unity. Fragmentation is the enemy of collective power, and this power is vital if the sector is to harness the momentum of the current moment in order to shape a society that is fair and equitable. 
Similarly, the lack of a cohesive approach to data gathering and reporting hinders our sector's ability to demonstrate impact on a wider scale. In some respects, there is a lack a full understanding of how the sector functions because of this individualistic approach to data collection. 
Funding issues as discussed above further compound this disunity, as they drive groups and organisations towards competition over collaboration. We must all be a part of the call for sufficient resourcing, and be empowered to work together for the greater good. 
---
3. Making our sector a great place to work
Lack of recognition leads to lack of adequate funding, meaning that organisations run the risk of exacerbating the very inequalities that they attempt to address.  
One speaker raised the example of care work, which employs a predominantly female workforce in frequently low-paid roles. Our sector as a whole, which has a large proportion of women in its employ, generally pays less than the private or public sectors, despite equal work. Inadequate and short-term funding also leads to a lack of permanent jobs or benefits for workers. 
The sector has received a great deal of praise in recent months, but this needs to be followed up with tangible funding commitments from relevant bodies. 
---
4. Economy-society symbiosis
The speakers held a broad range of views on the relationship between society and the economy, and the extent to which the two concepts can be separated.  
It was generally agreed, however, that they must coexist, and that there is a pressing need to define the kind of society that we want and how it differs from what we had pre-COVID-19. We must invest in communities and focus on progress in service of people, not simply profit. 
The opportunity to build a future inspired by our strong community values is here. We must ensure that the economy sustains the organisations that support our well-being, our health and keep us safe. A future centered around community and people is a future where our services do not struggle to support us. 
---
5. Avoiding austerity at all cost
All speakers agreed that austerity is not the way forward. We must grow the economy to recover. 
There must not be a repeat of the era of austerity, when nonprofit organisations, who proved so central to the national effort in responding to COVID-19, were subjected to disproportionate cuts that continue to be felt across the sector. They must be empowered to continue serving the most vulnerable and prevent less-advantaged communities from falling even further behind. 
---
6. Quality of life markers
Economic growth must take quality of life into consideration. There may be a need to define exactly what we mean, as a society, when we speak of "quality of life" to ensure that people's needs are being met appropriately. 
Speakers welcomed the inclusion of these markers in the New Programme for Government, which states: 
We will develop a set of indicators to create a broader context for policy making, to include:
A set of well-being indices to create a well-rounded, holistic view of how our society is faring.  
A balanced scorecard for each area of public policy focused on outcomes and the impact that those policies have on individuals and communities. Initially this will be focused on housing, education and health. 
And, finally...
We invite you to watch a full recording of the event below.