The COVID-19 Community Response: One Month On
After a month of tracking our #CommunityResponseIRL hashtag on Twitter, we share our thoughts on the incredible work we've witnessed in every corner of the country. 
We hear it again and again: it's an "evolving situation", we're "taking it day by day".  
It's a necessary mode right now, but working in the moment can make it feel like the moment is all there is. It's critical to step back from time to time and recognise that, although it may feel like the last few weeks have consisted of one long, endless day, we have already begun to evolve, adapt, and regroup. 
One of the ways we have been keeping track of the community and voluntary response to COVID-19 is with #CommunityResponseIRL on Twitter.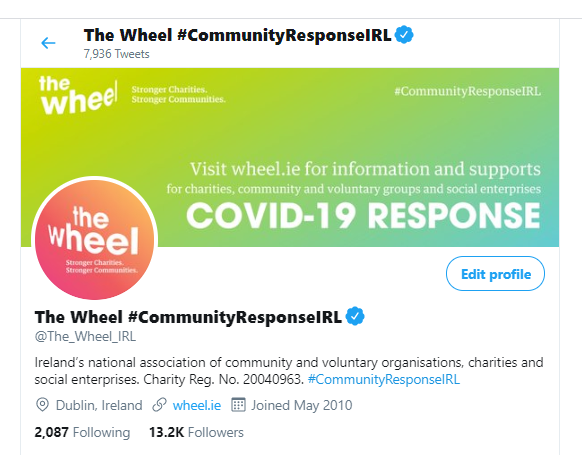 Since March 16th, we've used a daily thread to highlight some of the responses that resonated with us most. Since then, we have seen our sector's response evolve to meet the needs — both existing and emergent — of Ireland's most vulnerable groups.  
One month on, we want to share our observations as a reminder that we are not treading water, but making hard-won progress as we attempt to chart a course towards distant shores.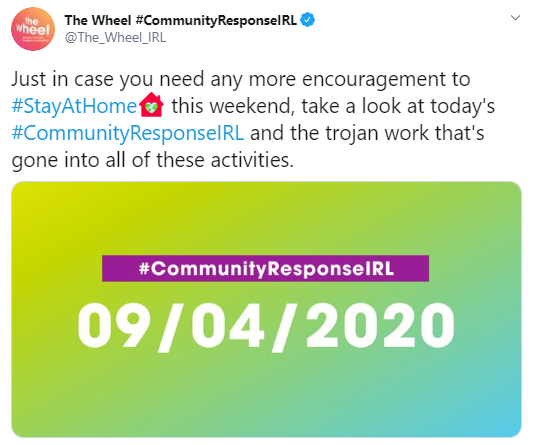 The first days of our #CommunityResponseIRL threads featured a wave of community goodwill. People across the country wanted to step up and help, to come together in a time of crisis. 
Volunteer Ireland had 400 people sign up in a single day. 
Yesterday over 400 people registered to volunteer on https://t.co/ipsGpl7m5z This morning we are seeing further huge numbers coming forward to help. Irish people are amazing! #COVID2019IRELAND #CommunityRepsonseIRL #overwhelmedbykindness pic.twitter.com/uZFVDSeTZN

— South Dublin Volunteer Centre (@volunteerdublin) March 14, 2020
And Alone were inundated with offers of support. 
A huge thanks from the team at ALONE for your amazing support over the last few days.
We have been inundated with messages from people who want to volunteer their time and we have answered hundreds of phone calls from older people every day.
We'll do it all again from Monday.

— alone_ireland (@ALONE_IRELAND) March 13, 2020
---
But with that goodwill came a challenge: many activities were forced to come to a standstill. Classes couldn't take place, support groups couldn't meet, and organisations had to figure out how to keep working with the proper respect for social distancing.  
For a sector working to provide the most vital services to underserved communities, any decision to restrict or cancel activities did not come lightly, but organisations reacted swiftly in the interest of the common good. 
Our support services are impacted by #COVID2019 - our helpline is suspended & our Dublin groups for March 18th are cancelled. Please contact alex@bodywhys.ie for support. https://t.co/4L3iLgc7Xi pic.twitter.com/L32D3IOZ7l

— Bodywhys (@bodywhys) March 12, 2020
Reminder that our Drop in Centre is closed but support services are open and ready to assist via phone and email.

Info below. https://t.co/bbyZuhq2M6

— Irish Refugee Council (@IrishRefugeeCo) March 18, 2020
ASI has announced the postponement of our largest annual fundraising campaign Alzheimer's Tea Day due to Covid-19. We are asking you to remember the 55,000 people living with dementia by making a special donation today at https://t.co/umxV9NbQXP. #ForgetMeNot #DementiaSupports

— The Alzheimer Society of Ireland (@alzheimersocirl) March 25, 2020
---
As time passes, though — slowly as it may seem to do so — we are figuring out where our support is now needed, how we can help those that already relied on us, and how we might adapt to the new context in which we find ourselves. 
Some are working on the frontlines to deliver food, medicine, or other supports to those who need it most. 
Volunteer chefs social distancing in the Community Catering kitchen. Huge #handclap to our incredible volunteer chefs, kitchen assistants, porters & drivers who prepare and deliver meals to homes of older people across Galway. #ThankYou 👏👏👏#communityresponseirl #COVID19 pic.twitter.com/T5yhNT0ZVv

— COPE Galway (@COPEGalway) March 31, 2020
The doors may be closed, but we're still working to support the children and families in need in our community! Our resources are limited, but we're doing what we can to get educational activities out to the little ones who need them right now #EarlyYears #CommunityResponseIRL pic.twitter.com/PVHfIvIOVq

— An Cosán (@an_cosan) March 27, 2020
@irishexaminer report on the work of Friendly Call Cork.

"'Some people don't have anyone, a birthday card from us is the only one they'll get,' Ms Barry said."https://t.co/FkoKRl8q5p

— The Wheel #CommunityResponseIRL (@The_Wheel_IRL) April 14, 2020
Some are moving groups, classes, or one-to-one supports online. 
While many things at the moment are uncertain, one thing is not. We will continue to be here for cancer survivors and do our best to support those most vulnerable at this difficult time.
To contact us, visit https://t.co/RuZPgiqlnm #communityresponseirl pic.twitter.com/n595z0teh8

— Marie Keating Foundation (@MarieKeating) March 26, 2020
Counselling, Psychotherapy, Family Therapy, Adolescent Therapy & support available over the phone or via email. We will work with you to find what works for you! #covidireland #communityresponseirl #counselling #frcsupport #familysupport #roscommonrocks pic.twitter.com/6pdNgPGvnm

— Boyle FRC (@Frcboyle) March 31, 2020
Great to see sheds exploring new ways to connect with one another. Here's Ramsgrange Men's Shed enjoying a nice cuppa and chat over Zoom! #CallThemForACuppa #Wexford pic.twitter.com/9GpPYUjswy

— Irish Men's Sheds Association (@IrishSheds) April 6, 2020
We have today with @YMCAIreland @SpunOut , and @Crosscare1 formally launched Ireland's first online chat service for young people as part of our Youth Information service, The system will be initially live from 4pm to 8pm Monday till Friday https://t.co/VxtuvzqdUL

— Youth Work Ireland (@ywirl) April 15, 2020
Some work to provide accurate, up-to-date information to their service users.  
Rare Diseases Ireland @RareDiseasesIE releases vital statement for people living within the rare disease community, including much needed advise on how to access essential medical appointments. Click here to view #cocooning https://t.co/2T3XWP6EVD pic.twitter.com/RgoPqjuPEc

— SWAN Ireland (@IrelandSwan) April 3, 2020
https://t.co/ELeTBHfkW2

IDS worked with @HSELive to create ISL version of Coronavirus Covid-19 Public Health Advice Booklet.

Next week we will split it into a set of short videos on the IDS and HSE website. For now, the full booklet is translated in this video.

— Irish Deaf Society (@IrishDeafSoc) April 9, 2020
We have produced a list of #COVID19 words and terms explained in plain English, for the many adults in Ireland who struggle with literacy.

View the full list: https://t.co/P3AU8d8LIS

— Nala Ireland (@nalaireland) April 14, 2020
And by the time we publish this, we're sure that even more initiatives specific to COVID-19 will have appeared across the country. 
---
We must not forget that all of this is happening against a backdrop of drastically reduced funding and economic uncertainty. At a time when our sector's services are most needed, many face pay cuts, layoffs, and fear for what the future might bring.  
Despite these challenges, however, at a fundamental level we have seen our sector rise to the occasion and make its way slowly over many new obstacles. Recent weeks have seen a number of context-sensitive, relevant fundraising initiatives. 
Help support the @_one_more_mile_ team as they take on #LockdownLoops on 25th April! All funds raised from the event will be donated to our organisation. Please give what you can now by visiting: https://t.co/nlpC0an2La 🙏#Fundraising #Support #spinabifida #hydrocephalus https://t.co/C6Rg4DgNhK

— Spina Bifida Hydrocephalus Ireland (SBHI) (@SBHIreland) April 15, 2020
Want to make a real difference while you #stayhome Take up our 19Day DRCC Move & Groove Challenge! Join us & put aside 19 mins to Move & Groove however you want while supporting survivors of sexual violence. You can also challenge your friends! #DRCCmove19 https://t.co/bIaSk2EsmR pic.twitter.com/YBxo15ogYB

— Dublin Rape Crisis (@DublinRCC) April 14, 2020
Are you ready to take part in a Social Distance Digital Relay? This Saturday take part between 7am - 8pm and help raise vital funds to sustain Pieta crisis services. https://t.co/YZZVXT5eiQ pic.twitter.com/Xdf7MNKwNJ

— Pieta (@PietaHouse) April 14, 2020
Big thanks to RTÉ News who featured Janet Smith from Shankill who is running 5km a day in her back garden to help us to support families living with Cancer during #Covid19

You can support Janet here https://t.co/DYNGhcytMu

Go Janet Go!! https://t.co/MNxnZpb2jd pic.twitter.com/q4cTuwf2Ss

— Purple House Cancer Centre (@PurpleHouseIRL) April 16, 2020
---
#CommunityResponseIRL has been a day-by-day endeavour itself, but we are starting to see the results stack up — and we raise our hats to everyone who has fought hard for each step forward. 
We are so proud of our staff who continue to support our tenants and service users. Our Daycare for Older People services are temp closed but staff are making & delivering meals to people daily from our Cork service. Here's Lynda sending off the plates! 👏👏 pic.twitter.com/bPCHjTnxEa

— Respond Housing (@RespondHousing) April 3, 2020
Adrian, Ruth & Luke are delivering food to the garden gates of cancer patients today. If you can help us keep up with demands, please text PURPLE to 50300 to donate €4 or visit https://t.co/gipOvhT9uA #COVID19ireland #communityresponseirl #cancer pic.twitter.com/U5ylFbAgaH

— Purple House Cancer Centre (@PurpleHouseIRL) April 9, 2020
Our Easter Aid packs (sterile packaged as per advice from the HSE) have landed at the homes of more than 92 Little Blue Hero families by special delivery with thanks to our colleagues in An Garda Siochana and An Post!! #CommunityResponseIRL #EasterAid #StaySafe @GardaReview pic.twitter.com/BOEXnGy1lA

— Little Blue Heroes (@LilBlueHeroes) April 13, 2020
---
#CommunityResponseIRL is still going strong, so please tag any tweets about your COVID-19 activities so that we can include them in our daily threads. 
---
#CommunityResponseIRL in the Media 
It is of utmost importance to us that the work our members are doing to support people through COVID–19 is seen, and recognised as a vital component in the overall community response. Our aim is to elevate and collate the stories of the sector's work. We are doing this by partnering with the national media to match journalists with the organisations doing the important work on the ground. 
Our mission is to assist in filling the airwaves, our screens and the newspapers with as many positive community news stories as possible throughout these most testing of times. We have been at work behind the scenes and are collaborating with the national media daily. We have supported several of our members to tell their stories to the press recently – see some inspiring examples below.
---
More on The Wheel's COVID-19 Response