Guidance for Employers
Developing a Contingency Plan
We encourage you to download the Business Continuity Planning spreadsheet below - adapted from this preparatory checklist from the Dept. of Business, Enterprise & Innovation - to help guide you on the most important aspects of planning for your organisation throughout the life cycle of this COVID-19 pandemic.
The practical guidance the document below will give you an excellent route for navigating through this unprecedented crisis.
See also:
An important update from The Wheel on the Government's new COVID-19 Income Support Scheme - read in full here.
The Department of Business, Enterprise and Innovation's resources for Business Continuity Planning.
Mason, Hayes & Curren have created a useful information page relating to COVID-19 and corporate governance.
The Revenue Commissioners has created an information and advice section for taxpayers and agents, including the Temporary COVID-19 Wage Subsidy Scheme - learn more here.
Working with the Public
The HSE has issued (14 March) the following document for working with vulnerable groups.
Guidance for Vulnerable Groups Setting
Additional HSE guidance for working in non-clinical settings is available here.
Irish Rural Link has created a very useful Protocol for Community Groups and Volunteers in Delivering Services.
Governance Issues
The Charities Regulator has published answers to frequently asked questions relating to charity governance and operations during the current crisis - full details here.
The Charities Regulator has also extended the annual reporting deadline for charities to 30 June - full details here.
The Department of Employment Affairs and Social Protection has compiled a comprehensive series of resources for employers and employees here.
Ibec has also created a useful information page, covering various issues relating to the workplace during the COVID-19 crisis, including the impact on mental health. The page also includes a number of freely accessible webinars, covering topics such as risk management and continuity planning - access it here.
Dublin Chamber is continuing to provide updates about the COVID-19 outbreak, including in regards to business / staffing-related concerns, as well as banking issues - read more here.
Remote Working & Data Protection
Advice on Working from Home During COVID-19, from Citizens Information - read more here.
The Data Protection Commission has released new guidance on data protection and privacy concerns relating to the Coronavirus outbreak - full details reproduced here.
Employee Rights 
In addition to the Dept. of Employment Affairs and Social Protection link above, workers can also access a useful guide to their employee rights for the duration of the COVID-19 crisis here on the Citizens Information website.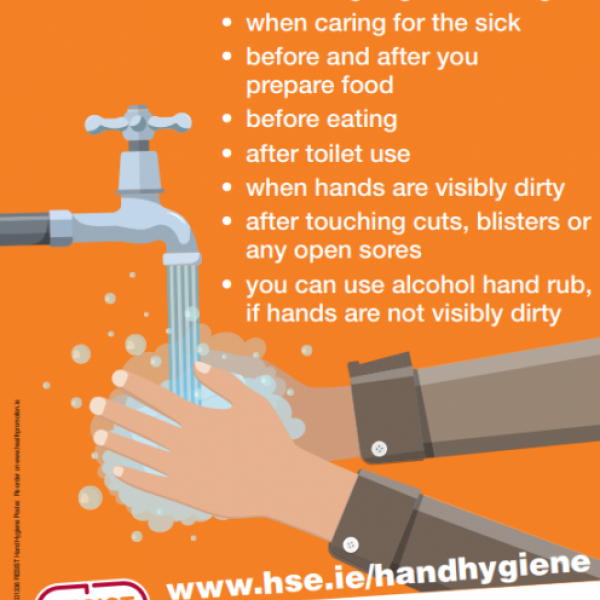 Public Health Advice Posters & Graphics
The Dept. of Health has issued a number of advice posters and social distancing graphics, for use in your workplace / on your premises.